Disclosure Statement: As this is my first product review, I felt it necessary to state that I am not employed in the aquarium industry, am not paid or receive "kickbacks" for my reviews, and I am not involved in any sort of sketchy deal. These reviews are purely my honest assessments, and I apologize for any personal bias that may arise during these reviews.
Tropic Eden Sand: A+
After a great deal of research in choosing what everyone considered "the best sand" for a reef aquarium, I decided on Tropic Eden's Reeflakes and MiniFlakes in a 2:1 ratio, respectively.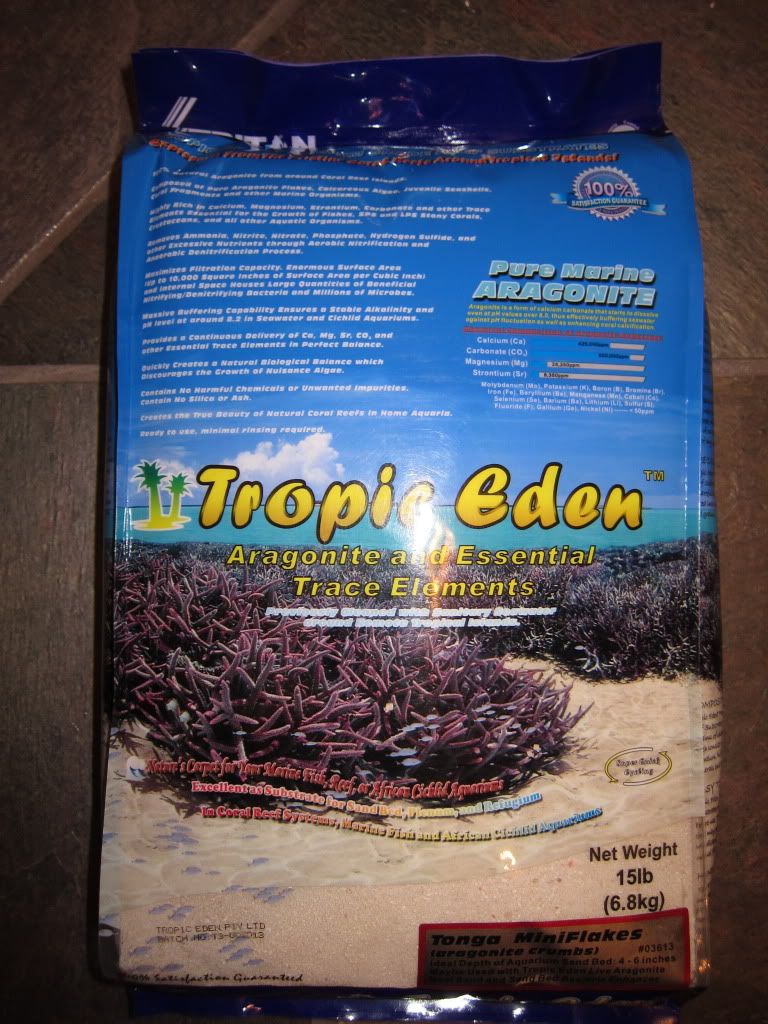 According to user testimonies, this sand in the 2:1 ratio had sufficiently large particle size to avoid sand blowing throughout the aquarium while small enough to allow sandsifters to do their job. I have two Vortech MP40 powerheads in my 150g aquarium, so I was interested to see how well this sand performed. I order 60 lbs of the Reeflakes and 30 lbs of the MiniFlakes through Premium Aquatics – the only online U.S. vendor I could find. 30 lb bags were $37.99 ($1.27 per pound). My order was large enough to qualify for free shipping. Compartively, CaribSea's Special Grade (commonly available at local retailers across the U.S.) is approximately $1 per pound (varies a few cents depending on retailer and size bag.)
As a long-time customer of Premium Aquatics, I was happy as always (and no, they don't pay me to say that!) I wasn't terribly pleased with the packaging, as 60 lbs of sand were sent in the original Tropic Eden box. Unfortunately, the box did not hold up well with that much weight and the Utah snow, but the sand was safe inside (sand was bagged well in very thick plastic).
The first thing unique about the Tropic Eden sand is that it gives a chemical composition of aragonite sand on the packaging. I did not use this information to any end use, but still, it was a nice touch.
As far as texture & size goes, Tropic Eden offers several products to meet most users' needs. I chose two sizes in the middle. They offer a size larger than the Reeflakes and a size smaller than the MiniFlakes. Here's a photo of the Reeflakes (left) and MiniFlakes (right) for size comparison.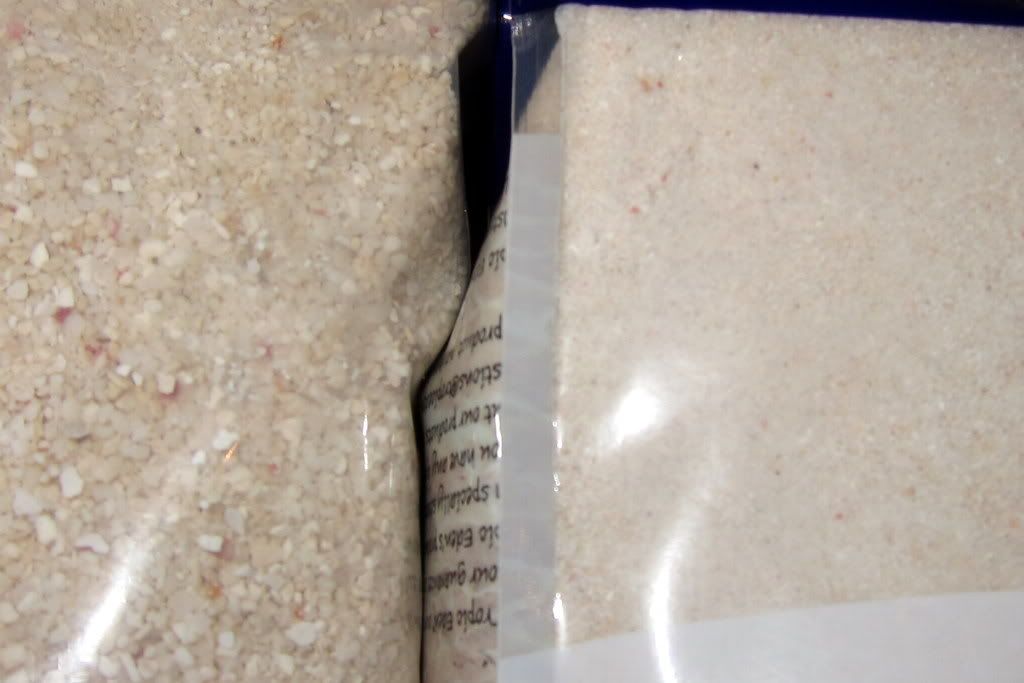 Although this sand was not the most brilliant white sand I've ever seen, it was, in fact, much more white than more commonly available sand for sale. In my aquarium with ~1000W of light over it, I'm quite glad it wasn't more white! I'd be blind! I love the small flecks of pinkish red sand in it as well.
Another unique thing about the Tropic Eden sand is that it requires very little rinsing. There wasn't the debris I am used to finding in other brands.
And lastly…performance. With the MP40's on at full speed approximately 20″ above the sand, the sand has stayed in place. I realize 20″ above the sand is not realistic for most users (my tank is 31″ tall), but this sand mixed in a 2:1 ratio does seem to stay in place well for high flow. At lower flow rates and lower heights, the sand still stayed in place. The particle size also appears perfect for sand-dwellers and sand-sifters.
I give Tropic Eden's Reeflakes and MiniFlakes an A+!
Pros: Clean, great color, great packaging (other than the shipping box), fairly inexpensive, and great size options
Cons: Requires the use of two different products (2:1 ratio) to make the perfect reef sand